Pawnee Heights Boys moving to semi final on Friday at the SPIAA Tournament defeating Minneola 56-48. Tigers will play at 6:30pm

Boys halftime at the SPIAA League Tournament: Pawnee Heights 25 Minneola 24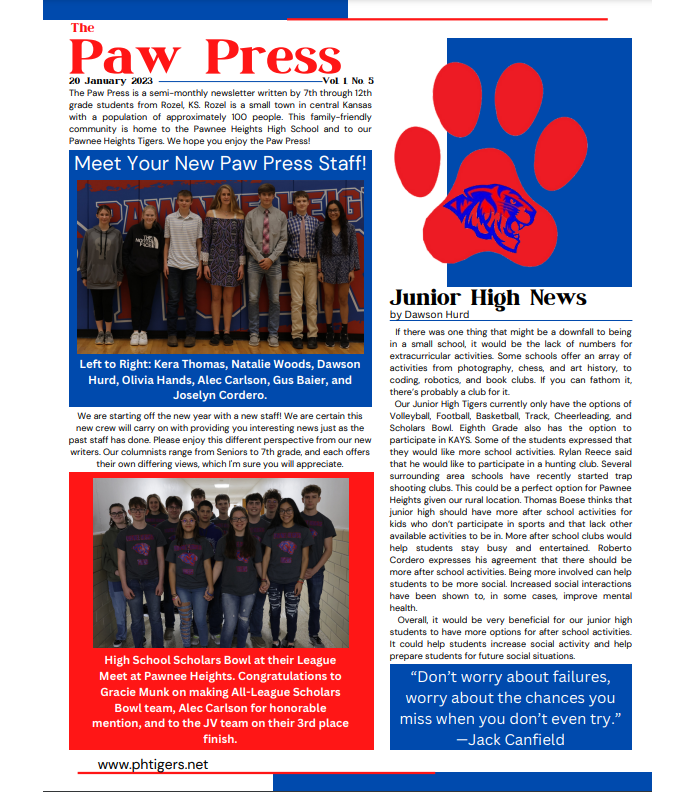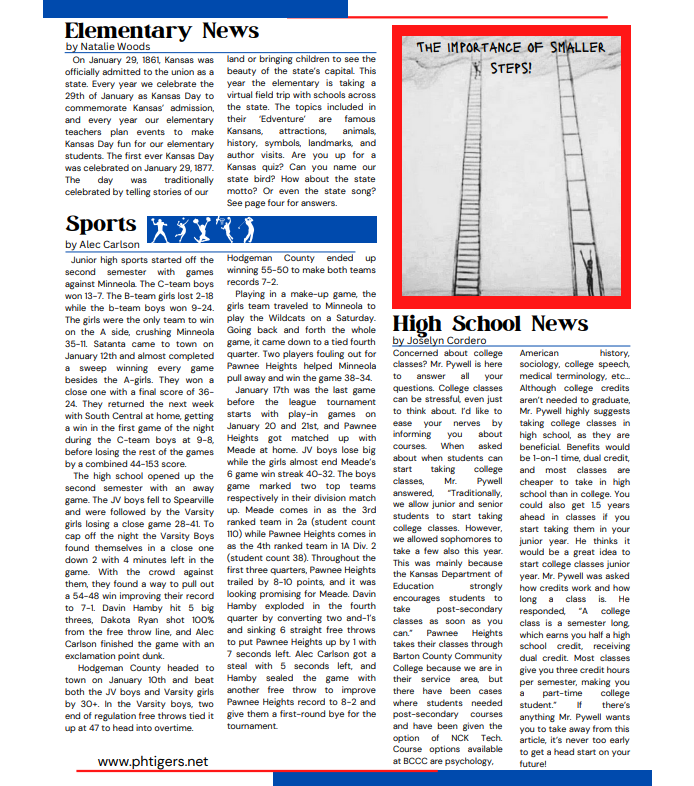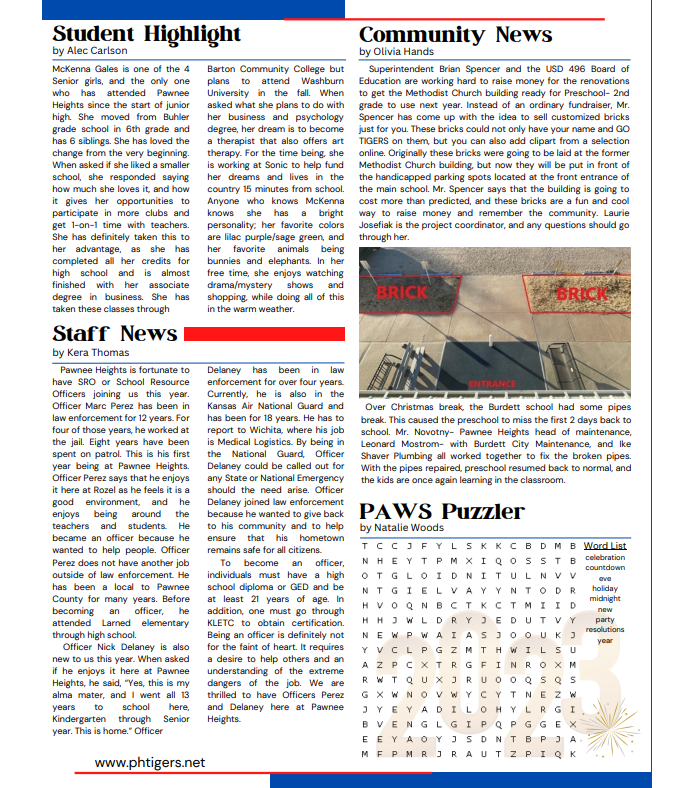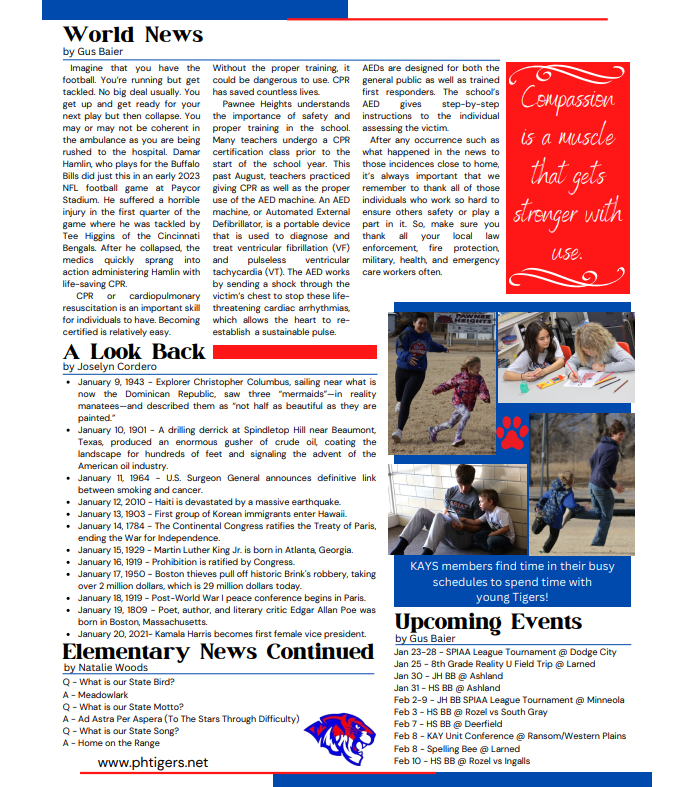 BUCKET FILLER ALERT!!!! For helping Mrs. Colglazier without being asked. Way to go Gideon!

Pawnee Heights Lady Tigers will play Minneola on Thursday for the Consolation Finals at 1:15 at the SPIAA League Tournament in Dodge City.

Girl's Consolation bracket game at the SPIAA Tournament: In a close, tight game Pawnee Heights defeats Satanta 49-46 in Double OverTime!!

Girl's Final at the SPIAA Tournament: Pawnee Heights falls to Spearville 28-41. Pawnee Heights will play Monday, January 23 at the United Wireless Arena in Dodge City at 1:15 pm.

Score Correction: Pawnee Heights JH A Team Girls falls to South Gray 21-30

Pawnee Heights JH A Team falls to South Gray 13-57

The SPIAA High School League Tournament will be streamed on the KCMCSports YouTube Channel

Pawnee Heights Girls JH A Team battled to the end, but came up just short of a win. They were defeated by South Gray 21-20. Nice job Girls!!!

Pawnee Heights JH B Teal falls to South Gray 18-42

Pawnee Heights JH B Team Boys fall to South Gray 12-29

Pawnee Heights JH Boys C Team falls to South Gray 8-14

Here are the SPIAA Girls and Boys Brackets for the upcoming SPIAA Tournament. The Play-In games will take place at Spearville High School on Friday, January 20 and Saturday, January 21. The Tournament will then transition to the United Wireless Arena for the games from January 23-28. Results will be sent out on the SPIAA Facebook and SPIAA Twitter pages. Please be sure to give us a follow on those platforms. We are excited to get the Tournament kicked off!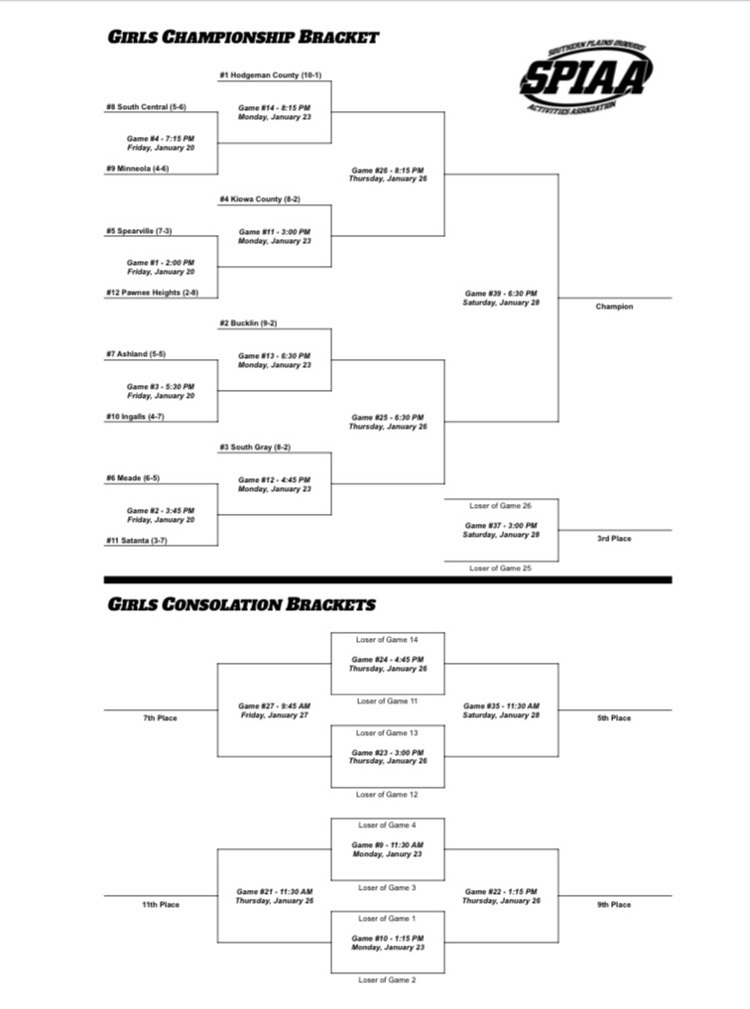 The Pawnee Heights elementary teachers are looking for volunteers to come participate in the the Read Across America week. Volunteers would read books to the elementary students. Volunteers would need to be available from 3-3:30pm the week of February 27th through March 3rd, 2023. If you would like to volunteer please contact:
faymurphy@phtigers.net
triciacolglazier@phtigers.net
raechalskelton@phtigers.net
Tigers win! 63 to 61.
Tigers lead! 62 to 61. .7 to play.
Great finish in the making. Tigers trail 60 to 61, but we are shooting two free throws with .15 to play.
Tigers trail 38 to 47 headed into the final quarter.