3:39 left 2nd: Fowler with a 43 yd TD run, xpt run no good. Pawnee Heights 42 Fowler 39
3:57 left 2nd: Hands to Colglazier for 15 yd Pawnee Heights TD pass, xpt kick no good. Pawnee Heights 42 Fowler 33
5:22 left 2nd: Fowler with a 15 yd TD run, xpt run good. Pawnee Heights 26 Fowler 33
6:06 left 2nd: Hands with a 6 yd Pawnee Heights TD run, xpt kick no good. Pawnee Heights 36 Fowler 26
6:45 left 2nd: Fowler with a 16 yd TD run, xpt run good. Pawnee Heights 30 Fowler 26
6:57 left 2nd: Hands with a 26 yd Pawnee Heights TD run, xpt kick no good. Pawnee Heights 30 Fowler 19
7:28 left 2nd: Folwer with a 25 yd TD run, xpt run no good. Pawnee Heights 24 Fowler 19
8:11 left 2nd: Adam Hands to Jimmy Gardner for a Pawnee Heights TD pass, xpt kick by Fiso good. Pawnee Heights 24 Fowler 13
9:21 left 2nd: Braden Colglazier to Alec Carlson for a 11 yd Pawnee Heights TD, xpt kick good by Fiso. Pawnee Heights 16 Fowler 13
Right at end of 1st: Fowler with a 4 yd TD run, xpt run no good. End of 1st: Pawnee Heights 8 Fowler 13
2:18 left 1st: Fowler a 38 yrd TD run, xpt run good. Pawnee Heights 8 Fowler 7
4:02 left 1st: Dalen Rasmussen a 11 yd reverse run TD for Pawnee Heights, xpt kick by Elwin Fiso good. Pawnee Heights 8 Fowler 0

Preschool-3rd grade will be going to Hickory Hollow Pumpkin Patch on October 14th!
Hodgeman Co. / Pawnee Heights holds on for a 30 to 24 victory at Jetmore over Ingalls.

10th grade World History class preparing for their presentations on major world religions next week.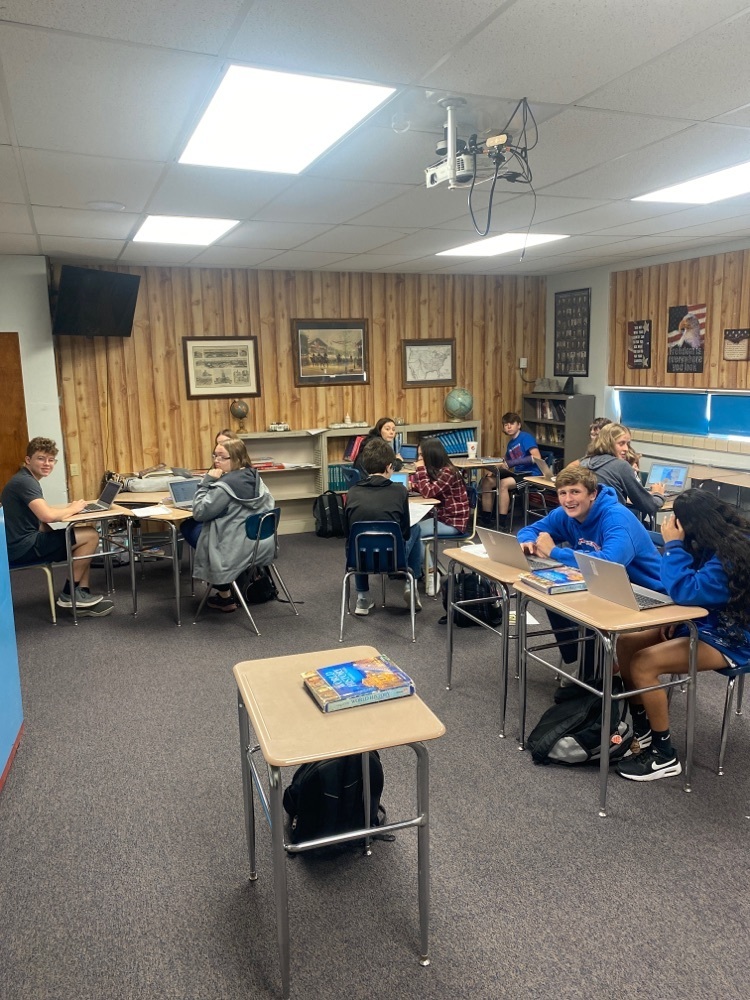 Spirit Week Days for Fall Homecoming! Matching Monday Tie Dye Tuesday Western Wednesday Throwback Thursday Tiger Pride Friday
Calendar for the week of September 20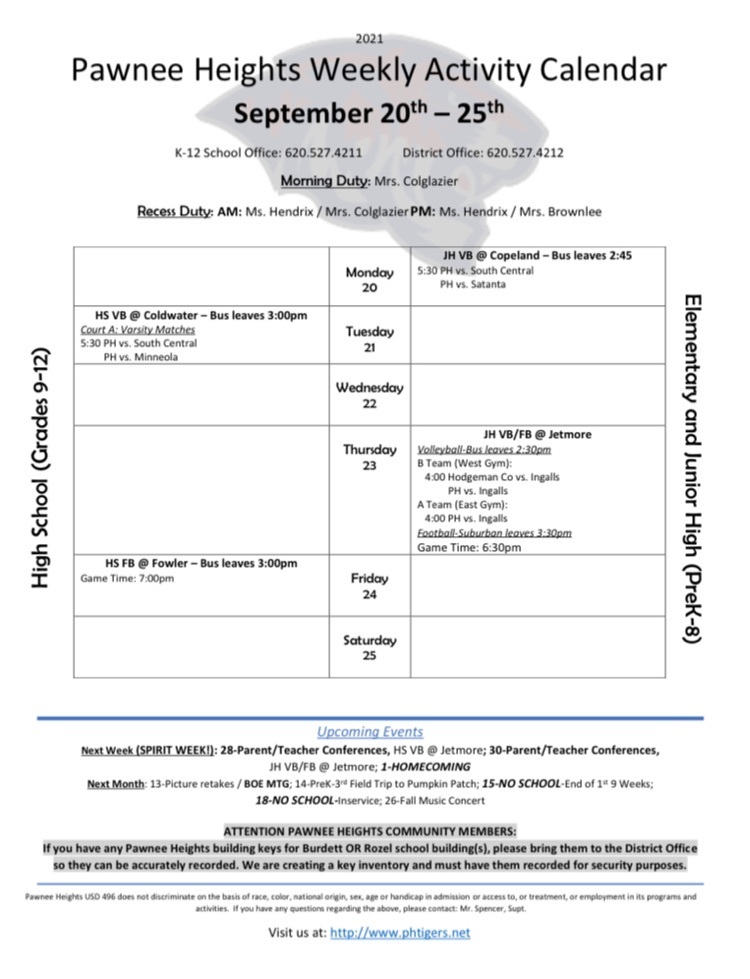 The invitational volleyball tournament will be streamed tomorrow, September 18!
The game will not be live streamed tonight. We will tweeting updates from the school Twitter feed.
Pawnee Heights' football field is currently being used as a host field for Ashland vs. Cheylin 6-man football tonight.